Education
Unfortunately we will not be accepting applications for a 2021 program.

We're committed to engaging students with science and fostering a scientifically literate public. Our goals are to provide authentic research experiences, promote greater climate literacy, and facilitate awareness of humanity's relationship to the environment.
Summer Internship for High School Students
Lamont-Doherty Earth Observatory sits on a 160-acre campus above the Hudson River in Palisades, New York, just 30 minutes north of Manhattan. Lamont scientists conduct fundamental Earth science research from the inner core to the outer reaches of the atmosphere on subjects that include climate change, oceanography, geochemistry, ocean and life sciences, marine genomics, tree-ring research, seismology, and geophysics.
Our high school interns work in small groups of two to four on research topics designed and led by Lamont scientists. Students gain hands-on experience in real research labs and will learn how to read research papers, perform measurements, collect and present data, and give presentations.
Find out about the 2020 program, learn about the 2019 program, meet our 2018 high school interns, our 2017 intern cohort, and 2016 intern cohort, and find out what it's like to participate in the program.
2021 Program: Please check back in spring 2021 for information about this program.
Internship Details and Eligibility: There are no formal application prerequisites but some demonstrated interest or experience in Earth science research is preferred. Students will be expected to work collaboratively in small groups, read scientific papers, participate in discussion groups, work independently and reliably, and demonstrate a high degree of maturity and responsibility. The work can be intellectually demanding and laboratory work can be tedious and must be conducted with great attention to detail.
You will have to complete readings and share updates each week, and at the end of the summer, your team will have to produce a science poster and a draft of a research article on your project. There is no cost to participate in the program.
Internships are four weeks long, full time, and students must be able to attend the full program. Typical hours are Monday through Friday from 9 a.m. to 5 p.m. A free shuttle bus transports students to and from Lamont and the main Columbia University campus in Manhattan. 
How to Apply: Candidates should read the research project descriptions and indicate on their application which project they'd like to work on. We will try to match students with their preferred project, but can't guarantee students will be assigned their first choice.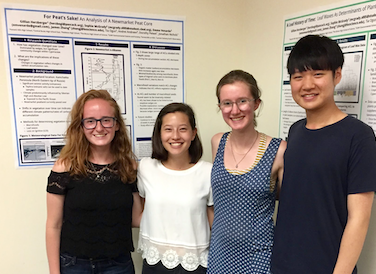 Support the Summer Intern Program
We are committed to providing training for young people to become science enthusiasts and stewards of the planet. We rely on an extraordinary community of donors to accomplish this mission and sustain our summer internship program.
Your support enables us to:
Provide students with hands-on, technology-rich research experience
Raise students' aspirations and cultivate skills in problem-solving, critical thinking, and collaboration
Equip students with the knowledge necessary to pursue careers in STEM fields
We are deeply grateful to all of our supporters. Your generosity ensures that we can continue to inspire curiosity and cultivate science literacy in young learners. Please donate today.
The Climate and Life Initiative is part of Columbia University's Lamont-Doherty Earth Observatory and is a 501c(3) nonprofit organization. Gifts are tax-deductible in accordance with law.